Something for Christmas..
Well I am very excited to show u all today what I made for two reasons.. Firstly because this is the first time I have made something for Christmas and would really like to know how u people felt I made the project.. Secondly as those who read my posts know that I have gone crazy after having a look tat what Tim Holtz does with various coloring mediums be it Distress Inks, acrylic Paints, Perfect Pearls or Crackle Paints.. So u guessed it right I have made one more tag using Tim Holtz technique :D.. So here is the look at same –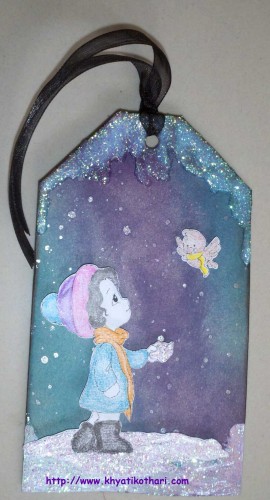 What I did was –
I distressed the card stock using Tim Holtz Distress Inks – BrokenChina and DustyConcord .. Later on i took my fevicryl pearl color in a brush and flicked it on the tag randomly giving that night effect.. Then I took my Winter Birdy Digital Stamp from Spech Stamp colored it and cut it.. Later I took the ice glimmer 3D glitter from Fevicryl and applied it on the top of the tag and on the snow part porting of my digital image cutout.. Later on on the base of the tag I added some white Acrylic Color, let it dry and then added the ice glimmer to give more white snowy effect.. OPnce the glitterdried out I stuck my image and added black organza ribbon.. Hope u all like what I did because I just loved making it..
I have added this tag to following challenges –
ICRC13 – Make Anything for Christmas but without the Christmas Colors
For the Love of Crafting – Make anything but card for Christmas