AndExplorer For Android Phones
I just got my new Android phone (Motorola MileStone XT 720) as a gift for myself from me :D… So the first thing after getting used to the mobile was how do i manage my folders.. Since Android din't provide any inbuilt application as such.. Browsing through internet for such application and spending quiet a time through the Android Market Place.. I found the application named AndExplorer..
Its a very interactive application which can be used to rename/cut/ copy/ paste files from one folder to another.. Also you can do the same to folders through these application.. This kind of application would generally by used  people who won't be connecting their phones daily to computers.. Although it's probably easier to do most of your work via mounting the SD card via USB connection to your PC. The other features provided by this app is , it can sort by name, size and date. It is able to uncompress ZIP, GZIP and TAR files too.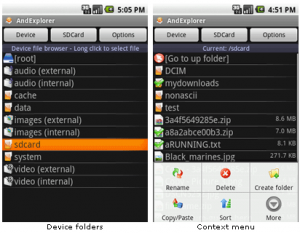 I would give it 4/5 as it does all the basic needful what a basic folder browser would do and UI is much easy to grasp.. Also the tips which constantly pop up as in how to use the application are really helpful…