Another tag made using Distressing and Embossing
Well today morning I had decided that anyhow I will learn distressing since I tried earlier and it did not come as great I had expected.. So I looked at Laura's videos on the tags she did here.. They were so beautiful and in her video she explained the technique so skillfully that actually I realized it's quiet simple and got on to make a tag of my own.. Here is the look at the same..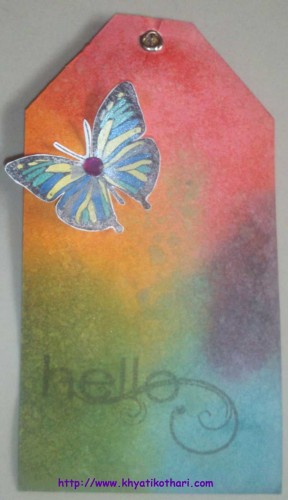 What i did was …
I took my inkessentials applicator and the foam pads for distress inks.. Then I used three Tim Holtz distress inks – Broken China, Worn Lipstick and Spiced Marmalade.. The green and the purple is form due to the color overlaps and I just love the way it turned out :D.. then i dried it out using my iron which is my current supplement for the heat embossing tool (which I will order soon and ask my brother to bring one.. So brother if u are reading this.. U may gift it to me as my new year present.. Don't worry I will send u the link 😀 ).. Well leaving that aside cos day by day my wishlist for crafting stuff is going bigger and more bigger :).. Anyways what I did after the inks were dried up is using my Glycerin which is currently my alternative for Embossing Pads which I have ordered and yet are in transit.. Anyways I seem to sway away from the main topic a lot today.. What I did was I took Glycerin on my Scrub Pad and randomly applied throughout the tag and then applied clear embossing powder on it.. Then I heated it using the Iron.. That is how I got those granulated effect..  Do try it out guys its fun.. I loved it.. Then I stamped my Micia Butterfly and painted it with Fevicryl Pearl Colors and added a rhinestone and did some glittering with my silver pen.. I also stamped Hello I think its a StampinUp stamp but I am not sure.. Tada and the tag is ready..
I have added a ribbon to it.. So that I can hang it.. I want to hang this one in my room since this gives me a feel of Rainbow and I am sure will brighten my day whenever I am feeling low 🙂

Have added the tag to Kavithas new blog here whereshe is sharing lots of crafting techniques so do head out there.. The challenge is posted here